An Interview with Natasha Debnam (Illustrator of My Lighthouse book)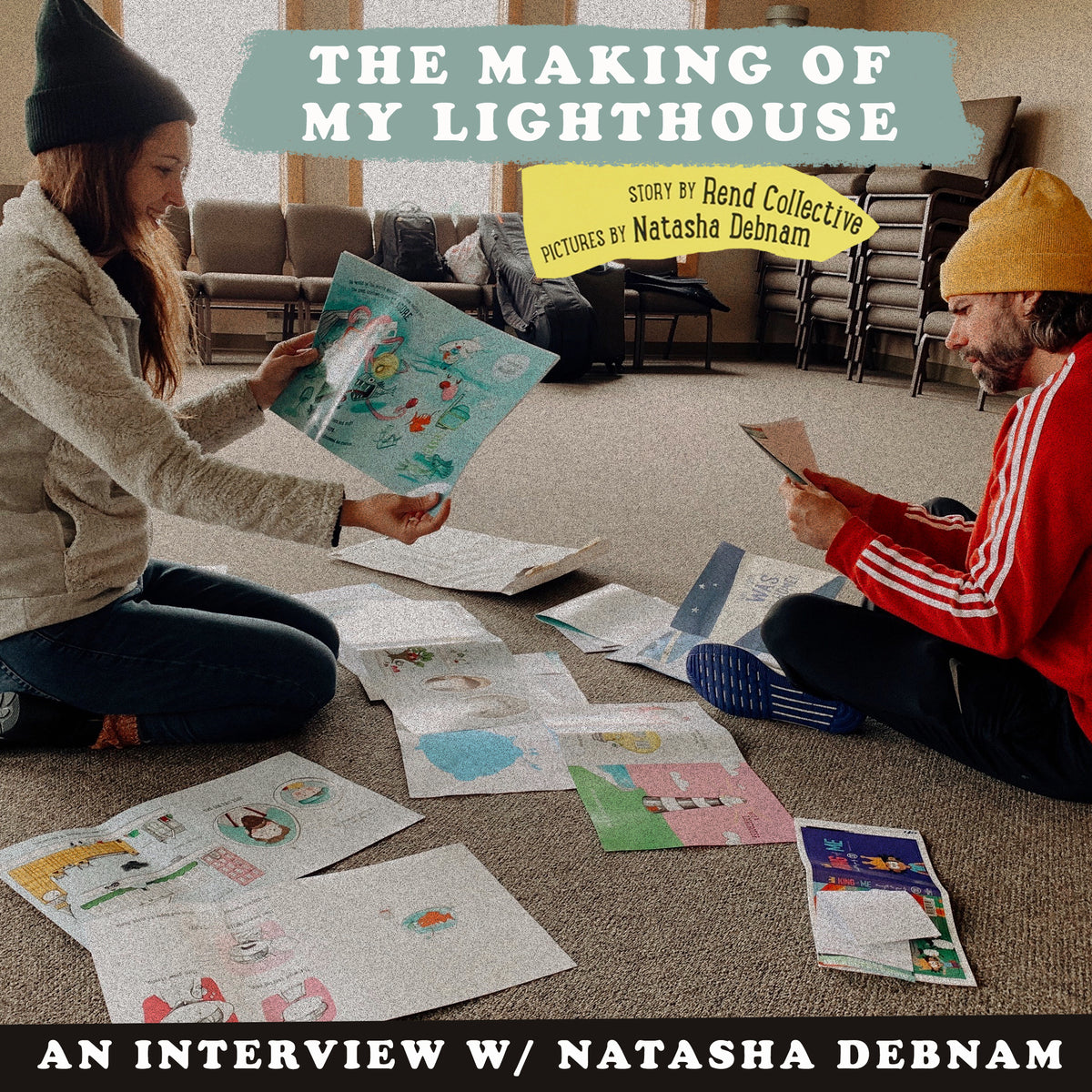 An Interview with Natasha Debnam (Illustrator of My Lighthouse book)
We always knew we wanted to write a children's book around the concept of our song My Lighthouse. The idea kind of always stuck around, and even when new albums came out and tours began, it was always in the back of our minds. 
But once we started writing songs and creating a little more for our children, we knew it was the right time. 
We ended up having several illustrators pitch their work to us, and Natasha Debnam was one of them. We'd worked with her before on the cover of our Christmas record and just loved her aesthetic and vibe so much, it felt like the right fit. 
We worked on it together remotely, emailing each other idea from our tour bus and conceptualising each and every page. This book really is a labor of love and it's been so amazing to see you all welcome it into your family and homes. 
We hope you enjoy this interview with Natasha and come to love her as much as we do!
Give us a bit of your story— how did you get into illustration and storytelling?
I was born in Canada and have always loved drawing, even from an early age, I was very fortunate that both my parents embraced my love of art and encouraged me to follow my passion. As I was not particularly academic I found myself on an art foundation course near me in Toronto, which led me onto studying Illustration.
I am married with 3 children and now live on the South Coast of England. My focus changed for a bit when I became a Mom for a few years, but that creative thing inside me never changed. Picture books are a big thing in our house, even now with my youngest being 10, we all still always find ourselves in the kids book area in bookshops! I knew deep down this was a great desire of mine to illustrate picture books and I love how God knows our deepest desires. 
A few years ago Rend got in contact with me as they had seen some some quirky art pieces that I had done and asked if I could do a cover for 'Campfire Christmas', which was super fun and a great experience, which led to them approaching me about this book.
When you sit down to start illustrating a book what are some of the first things you take into consideration?
Its always a challenge to start with a blank sheet of paper at the beginning, there is a lot to take into consideration, but I like to start with character development, I tend to read the story through quite a few times and doodle down many ideas in my sketchbook.  
How do you pick a colour scheme for your work?
Good question, I actually sketch out a rough of the whole book in black and white before adding any colour. On this book I knew there was going to be a lot of water(!), so I based a colour scheme around this and I love turquoise so you will always find a hint of it in most of my work! To counter-act all the blue tones I wanted to make sure there were some punchy colours to contrast, the yellow became one of these, like Fynn's coat.
What was the most challenging part of conceptualising the My Lighthouse book?
With the 'My Lighthouse' book it was important to hear all the visions and dreams that Gareth and Ali had, so I could capture their heart and vision for how they wanted the book to look and feel, but to also merge them with all the concepts and ideas I had.
What was it like working with Gareth and Ali?
Working with Gareth and Ali was a blast! I loved their energy and passion, it was great as they were so open to my concepts and ideas also. We formed a great couples team working together as my husband is a designer (and did all the bits I can't do!).
Where there any pages in the book where you thought to yourself….How am I going to present this page?
Yes, all the water pages (haha!) as I haven't had to illustrate that much water before, but in the end it was super enjoyable to do as it's always good to be challenged, I find getting through that is how I grow!
Where there any moments you felt a little stuck?
Many moments! That is the challenge of developing any project like this. I spent a lot of time praying in those tough moments! One area while doing the early characterisation of Fynn, I felt there was something missing, I sketched a little crab friend for him, at first just on one or two pages, but he ended up being a more dominant character and brought some fun and humour, I was so pleased that Gareth and Ali loved that vision also.
What was your favourite page to illustrate?
Its going to sound funny, but the page I enjoyed the most is the wonglefish at the end of the book, where he is squeezed into a fish bowl, as it was a little bit of fun, but saying that I enjoyed illustrating quite a few pages, like the page with pictures of the family generations (which was actually the first conceptual page I sent to Gareth and Ali), the boat & houses pages, and definitely the underwater treasure page, as I personally have a fascination with sea creatures, a little sneaky insider, the fish below Fynn was actually designed by my youngest son Zaiden (who also loves drawing).
What are you favourite art supplies to use?
I personally like to use a mixture of materials, the foundation of most of my work is acrylic based, but also pencils and markers.
Do you have any favourite kids books?
I love kids books! There are so many great illustrators doing great work. As a family we often read books together, and a firm favourite is 'The Amazing Book Eating Boy' and 'Lost and Found' by Oliver Jeffers.
For more on Natasha click here!
---
← Older Post Newer Post →